Contents Previous Page Next Page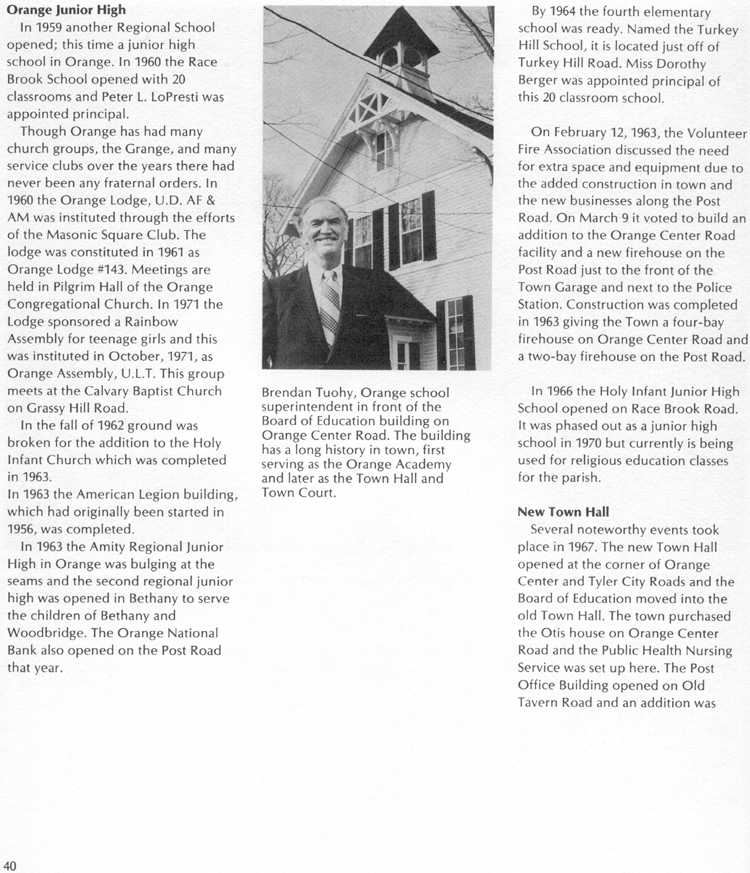 Orange Junior High
In 1959 another Regional School opened: this time a junior high school in Orange. In 1960 the Race Brook School opened with 20 classrooms and Peter L. LoPresti was appointed principal.
Though Orange has had many church groups, the Grange, and many service clubs over the years there had never been any fraternal orders. In 1960 the Orange Lodge, U.D. AF & AM was instituted through the efforts of the Masonic Square Club. The lodge was constituted in 1961 as Orange Lodge #143. Meetings are held in Pilgrim Hall of the Orange Congregational Church. In 1971 the Lodge sponsored a Rainbow Assembly for teenage girls and this was instituted in October, 1971, as Orange Assembly, U.L.T. This group meets at the Calvary Baptist Church on Grassy Hill Road.
In the fall of 1962 ground was broken for the addition to the Holy Infant Church which was completed in 1963.
In 1963 the American Legion building, which had originally been started in 1956, was completed.
In 1963 the Amity Regional Junior High in Orange was bulging at the seams and the second regional junior high was opened in Bethany to serve the children of Bethany and Woodbridge. The Orange National Bank also opened on the Post Road that year.
By 1964 the fourth elementary school was ready. Named the Turkey Hill School, it is located just off of Turkey Hill Road. Miss Dorothy Berger was appointed principal of this 20 classroom school.
On February 12, 1963, the Volunteer Fire Association discussed the need for extra space and equipment due to the added construction in town and the new businesses along the Post Road. On March 9 it voted to build an addition to the Orange Center Road facility and a new firehouse on the Post Road just to the front of the Town Garage and next to the Police Station. Construction was completed in 1963 giving the Town a four-bay firehouse on Orange Center Road and a two-bay firehouse on the Post Road.
In 1966 the Holy Infant Junior High School opened on Race Brook Road. It was phased out as a junior high school in 1970 but currently is being used for religious education classes for the parish.
New Town Hall
Several noteworthy events took place in 1967. The new Town Hall opened at the corner of Orange Center and Tyler City Roads and the Board of Education moved into the old Town Hall. The town purchased the Otis house on Orange Center Road and the Public Health Nursing Service was set up here. The Post Office Building opened on Old Tavern Road and an addition was
[picture caption] Brendan Tuohy, Orange school superintendent in front of the Board of Education building on Orange Center Road. The building has a long history in town, first serving as the Orange Academy and later as the Town Hall and Town Court.