Contents
Previous Page
Next Page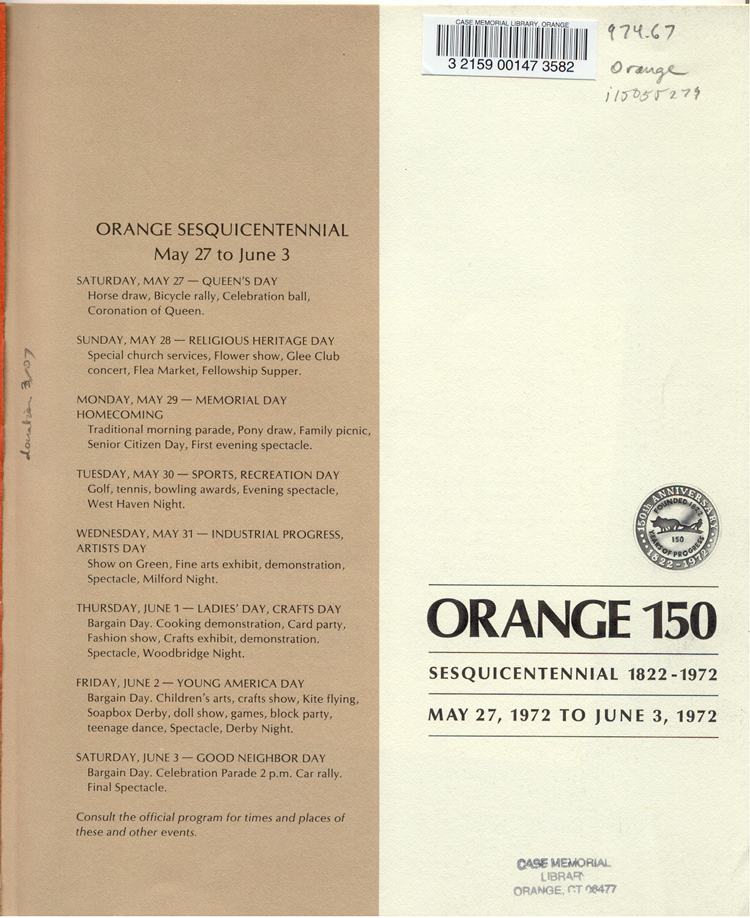 ORANGE 150
SESQUICENTENNIAL 1822-1972
MAY 27, 1972 TO JUNE 3, 1972
ORANGE SESQUICENTENNIAL
May 27 to June 3
SATURDAY, MAY 27 – QUEEN'S DAY
Horse draw, Bicycle rally, Celebration ball, Coronation of Queen.
SUNDAY, MAY 28 – RELIGIOUS HERITAGE DAY
Special church services, Flower show, Glee Club concert, Flea Market, Fellowship Supper.
MONDAY, MAY 29 – MEMORIAL DAY HOMECOMING
Traditional morning parade, Pony draw, Family picnic, Senior Citizen Day, First evening spectacle.
TUESDAY, MAY 30 – SPORTS, RECREATION DAY
Golf, tennis, bowling awards, Evening spectacle, West Haven Night.
WEDNESDAY, MAY 31 – INDUSTRIAL PROGRESS, ARTISTS DAY
Show on Green, Fine arts exhibit, demonstration, Spectacle, Milford Night.
THURSDAY, JUNE 1 – LADIES' DAY, CRAFTS DAY
Bargain Day. Cooking demonstration, Card party, Fashion show, Crafts exhibit, demonstration. Spectacle, Woodbridge Night.
FRIDAY, JUNE 2 – YOUNG AMERICA DAY
Bargain Day. Children's arts, crafts show, Kite flying, Soapbox Derby, doll show, games, block party, teenage dance, Spectacle, Derby Night.
SATURDAY, JUNE 3 – GOOD NEIGHBOR DAY
Bargain Day. Celebration Parade 2 p.m. Car rally. Final Spectacle.
Consult the official program for times and places of these and other events.