Contents Previous Page Next Page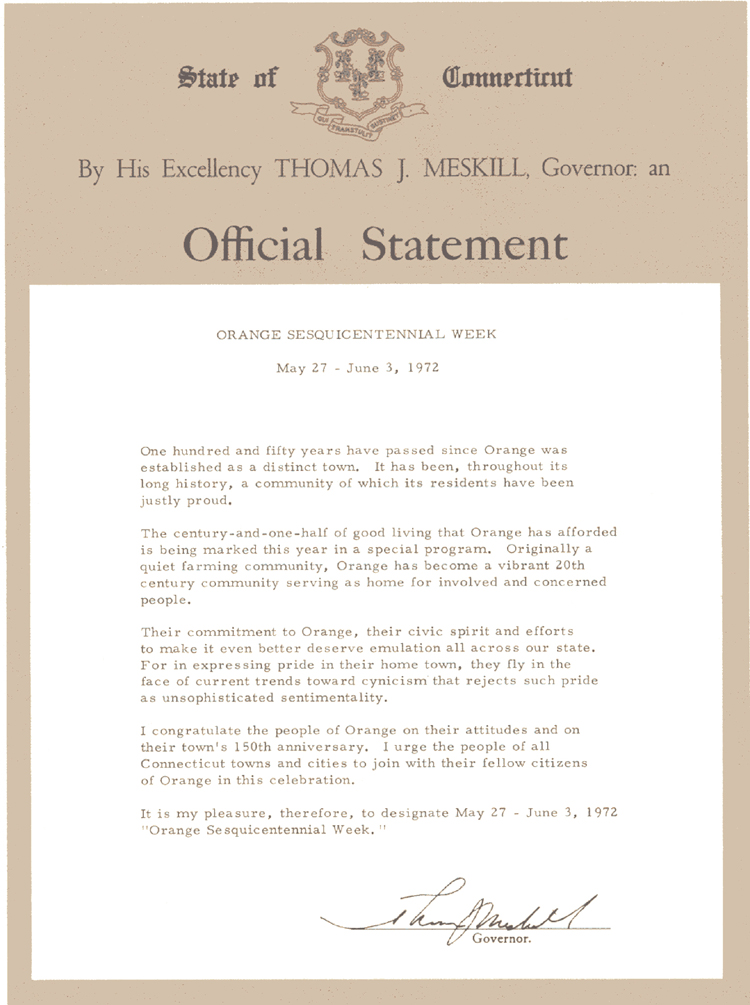 State of Connecticut
By His Excellency THOMAS J. MESKILL, Governor: an
Official Statement
ORANGE SESQUICENTENNIAL WEEK
May 27 - June 3, 1972
One hundred and fifty years have passed since Orange was established as a distinct town. It has been, throughout its long history, a community of which its residents have been justly proud.
The century-and-one-half of good living that Orange has afforded is being marked this year in a special program. Originally a quiet farming community, Orange has become a vibrant 20th century community serving as home for involved and concerned people.
Their commitment to Orange, their civic spirit and efforts to make it even better deserve emulation all across our state. For in expressing pride in their home town, they fly in the face of current trends toward cynicism that rejects such pride as unsophisticated sentimentality.
I congratulate the people of Orange on their attitudes and on their town's 150th anniversary. I urge the people of all Connecticut towns and cities to join with their fellow citizens of Orange in this celebration.
It is my pleasure, therefore, to designate May 27 - June 3, 1972 "Orange Sesquicentennial Week."
Thomas J. Meskill
Governor.