Contents
Previous Page
Next Page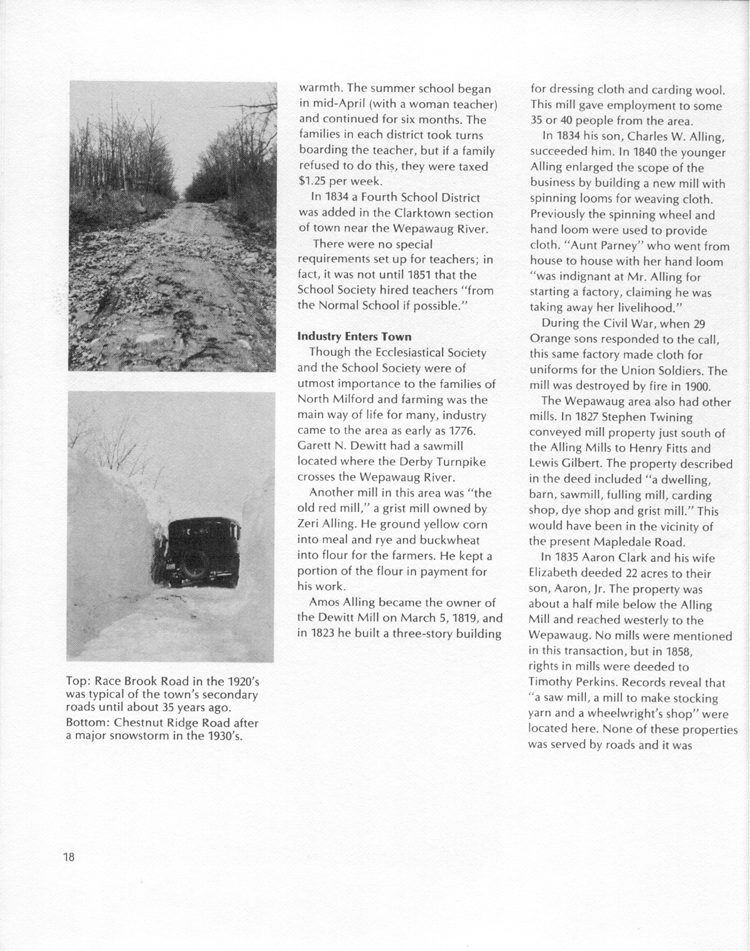 warmth. The summer school began in mid-April (with a woman teacher) and continued for six months. The families in each district took turns boarding the teacher, but if a family refused to do this, they were taxed $1.25 per week.
In 1824 a Fourth School District was added in the Clarktown section of town near the Wepawaug River.
There were no special requirements set up for teachers; in fact, it was not until 1851 that the School Society hired teachers "from the Normal School if possible."
Industry Enters Town
Though the Ecclesiastical Society and the School Society were of utmost importance to the families of North Milford and farming was the main way of life for many, industry came to the area as early as 1776. Garett N. Dewitt had a sawmill located where the Derby Turnpike crosses the Wepawaug River.
Another mill in this area was "the old red mill," a grist mill owned by Zeri Alling. He ground yellow corn into meal and rye and buckwheat into flour for the farmers. He kept a portion of the flour in payment for his work.
Amos Alling became the owner of the Dewitt Mill on March 5, 1819, and in 1823 he built a three-story building for dressing cloth and carding wool. This mill gave employment to some 35 or 40 people from the area.
In 1834 his son, Charles W. Alling, succeeded him. In 1840 the younger Alling enlarged the scope of the business by building a new mill with spinning looms for weaving cloth. ''Aunt Parney" who went from house to house with her hand loom "was indignant at Mr. Alling for starting a factory, claiming he was taking away her livelihood."
During the Civil War, when 29 Orange sons responded to the call, this same factory made cloth for uniforms for the Union Soldiers. The mill was destroyed by fire in 1900.
The Wepawaug area also had other mills. In 1827 Stephen Twining conveyed mill property just south of the Alling Mills to Henry Fitts and Lewis Gilbert. The property described in the deed included "a dwelling, barn, sawmill, fulling mill, carding shop, dye shop and grist mill." This would have been in the vicinity of the present Mapledale Road.
In 1835 Aaron Clark and his wife Elizabeth deeded 22 acres to their son, Aaron, Jr. The property was about a half mile below the Alling Mill and reached westerly to the Wepawaug. No mills were mentioned in this transaction, but in 1858, rights in mills were deeded to Timothy Perkins. Records reveal that "a saw mill, a mill to make stocking yarn and a wheelwright's shop" were located here. None of these properties was served by roads and it was
[picture caption] Top: Race Brook Road in the 1920's was typical of the town's secondary roads until about 35 years ago.
Bottom: Chestnut Ridge Road after a major snowstorm in the 1930's.