Contents Previous Page Next Page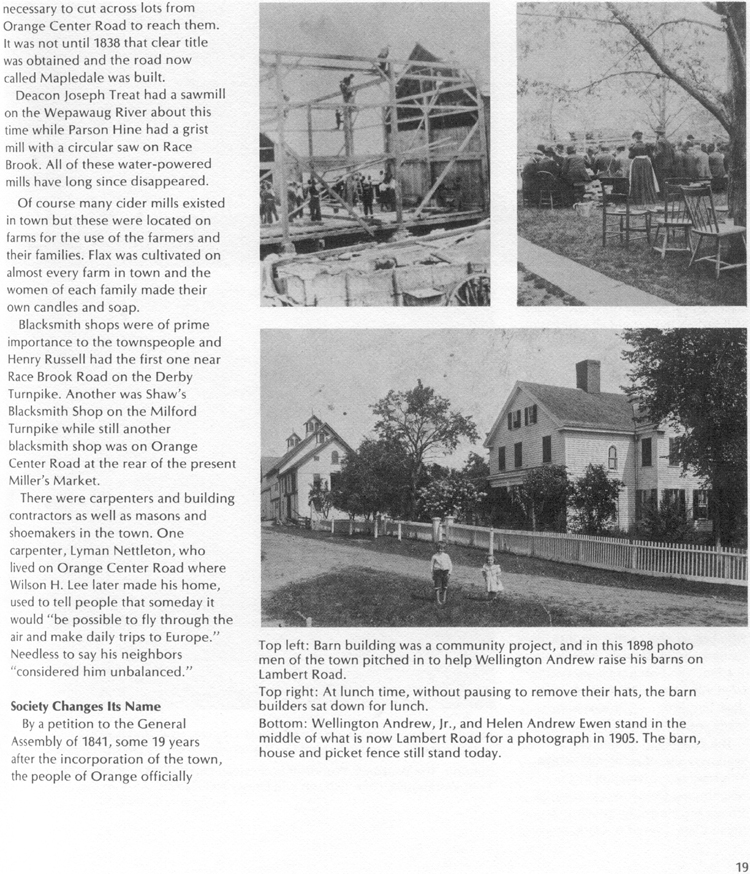 necessary to cut across lots from Orange Center Road to reach them. It was not until 1838 that clear title was obtained and the road now called Mapledale was built.
Deacon Joseph Treat had a sawmill on the Wepawaug River about this time while Parson Hine had a grist mill with a circular saw on Race Brook. All of these water-powered mills have long since disappeared.
Of course many cider mills existed in town but these were located on farms for the use of the farmers and their families. Flax was cultivated on almost every farm in town and the women of each family made their own candles and soap.
Blacksmith shops were of prime importance to the townspeople and Henry Russell had the first one near Race Brook Road on the Derby Turnpike. Another was Shaw's Blacksmith Shop on the Milford Turnpike while still another blacksmith shop was on Orange Center Road at the rear of the present Miller's Market.
There were carpenters and building contractors as well as masons and shoemakers in the town. One carpenter, Lyman Nettleton, who lived on Orange Center Road where Wilson H. Lee later made his home, used to tell people that someday it would "be possible to fly through the air and make daily trips to Europe." Needless to say his neighbors "considered him unbalanced."
Society Changes Its Name
By a petition to the General Assembly of 1841, some 19 years after the incorporation of the town, the people of Orange officially
[picture caption] Top left: Barn building was a community project, and in this 1898 photo men of the town pitched in to help Wellington Andrew raise his barns on Lambert Road.
Top right: At lunch time, without pausing to remove their hats, the barn builders sat down for lunch.
Bottom: Wellington Andrew, Jr., and Helen Andrew Ewen stand in the middle of what is now Lambert Road for a photograph in 1905. The barn, house and picket fence still stand today.