Contents Previous Page Next Page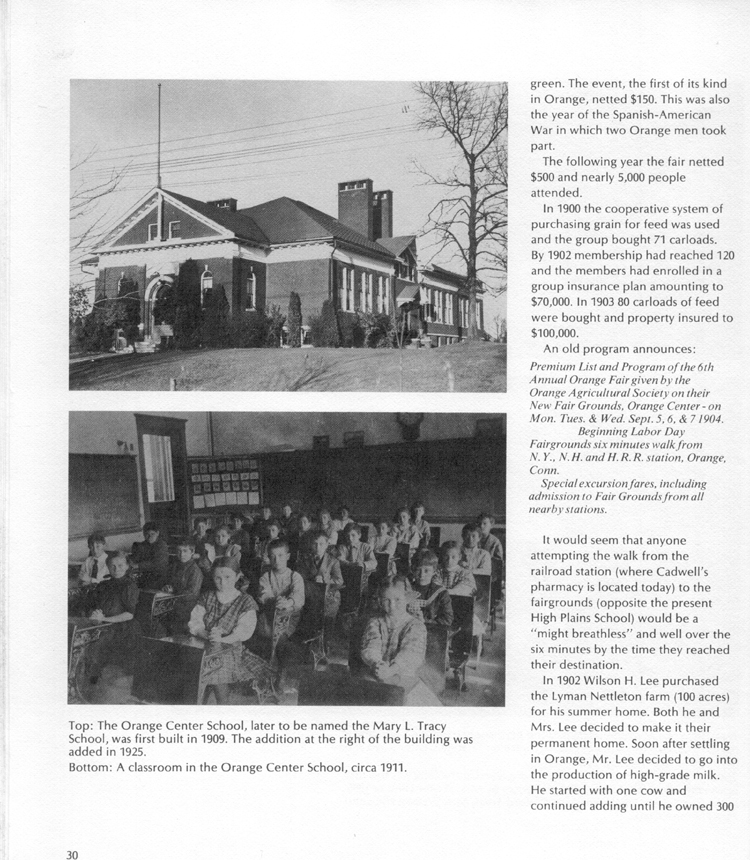 green. The event, the first of its kind in Orange, netted $150. This was also the year of the Spanish-American War in which two Orange men took part.
The following year the fair netted $500 and nearly 5,000 people attended.
In 1900 the cooperative system of purchasing grain for feed was used and the group bought 71 carloads. By 1902 membership had reached 120 and the members had enrolled in a group insurance plan amounting to $70,000. In 1903 80 carloads of feed were bought and property insured to $100,000.
An old program announces:
Premium List and Program of the 6th Annual Orange Fair given by the Orange Agricultural Society on their New Fair Grounds, Orange Center - on Mon. Tues. & Wed. Sept. 5, 6, & 7 1904.
Beginning Labor Day
Fairgrounds six minutes walk from N.Y., N.H. and H.R.R. station, Orange, Conn.
Special excursion fares, including admission to Fair Grounds from all nearby stations.
It would seem that anyone attempting the walk from the railroad station (where Cadwell's pharmacy is located today) to the fairgrounds (opposite the present High Plains School) would be a "might breathless" and well over the six minutes by the time they reached their destination.
In 1902 Wilson H. Lee purchased the Lyman Nettleton farm (100 acrees) for his summer home. Both he and Mrs. Lee decided to make it their permanent home. Soon after settling in Orange, Mr. Lee decided to go into the production of high-grade milk. He started with one cow and continued adding until he owned 300
[picture caption] Top: The Orange Center School, later to be renamed the Mary L. Tracy School, was first built in 1909. The addition at the right of the building was added in 1925.
Bottom: A classroom in the Orange Center School, circa 1911.